Spent most of the morning thinking out my speech for tonight which I eventually 'got' more or less. This afternoon I had my official practice as Head of House and all those who were going to sing at the Play Supper sang their songs before me. It was not unamusing 'passing them' as all right and making comments etc. All but two were all right and those had a little extra practice with Boult afterwards. Afterwards we Chiswickites decorated 'Hall' with Green stuff etc. and for a time Hall resounded with nailings (with hammers, pokers, saucepans and 'muttered execrutions' etc) of tintacks while we agilely balanced ourselves on tables and chairs. Later we fetched the piano down and I had dinner with Father.
2nd Play Night and Play Supper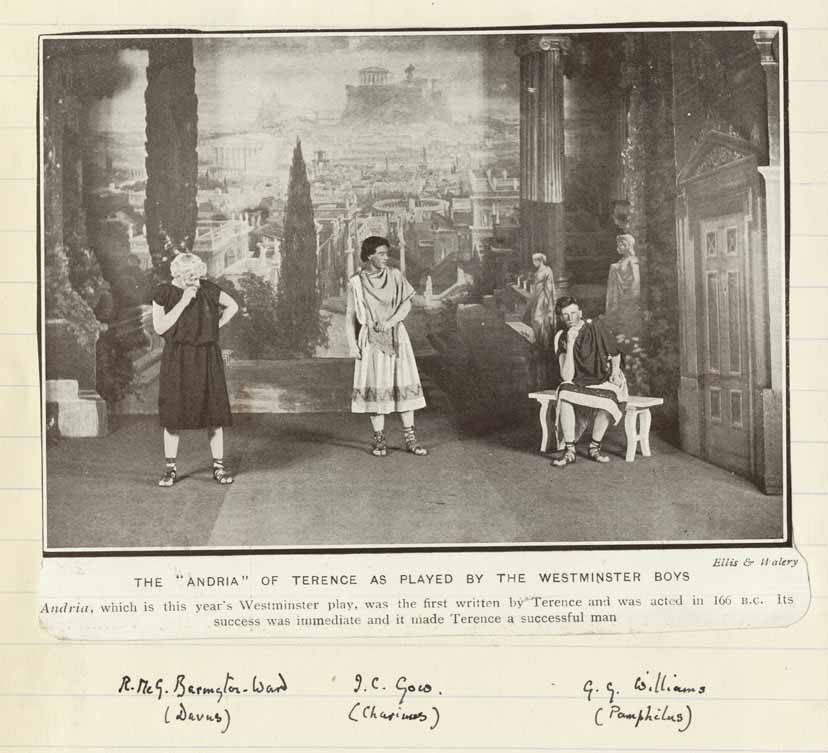 . The Play was somewhat late in starting and we were squashed to suffocation in the 'Gods' — I kept my chair but the squash was so great that even monitors were being turned out. The Dean brought Admiral Sir John Fisher with him, the Dean of Christ Church, Lord Stalbridge and others. Prologue was much better and less nervous but he had to be prompted once. The Play on the whole went very well. Benvenisti was I thought very good and acted the first scene with consummate art. He and Ward are as good actors as I have seen on the Westminster Stage. There were no hitches tonight, though sometimes there were some lengthy pauses between the Acts.
The Supper was excellent and at the auspicious moment the Head of House rose amid applause and inwardly quailing though outwardly calm began: – 'Mr Tanner and Gentlemen. It with great pleasure that I rise to propose the health of Mr Tanner (Hear Hear) In doing so I am standing in a unique position, this is the first time, I believe, in the history of the House that it has fallen to the lot of the Head of House to propose the health of his own Father and it is a position I am proud to be in (hear hear) At the same time I am fully aware of the delicacy of my position (laughter) but I feel quite sure that nothing that I can say will add in the least to the great pleasure we all feel in drinking Mr Tanner's health (loud applause). The toast was drunk with enthusiastic cheers and musical honours.
I then called on the following for songs in the following order saying 'I call upon Mr So-and-so for a song':
A.K. Gilmour – 'A more humane Mikado' (Mikado)
G. Scott (OW) – ?
F. Tomlinson – John Peel
J. Radcliffe (OW) – The Carrion Crow
J. Mason – Mr Dooley
A. Boult (OW)- The Berkshire Tragedy
R. Sedgwick – The Baby on the Shore
G. Pitt-Lewis (OW) – 'Young Man despair' (Mikado)
H. Eyre – Pollywally Doodle
A.F. Noble (OW) – Camptown Races
G. Frampton – The Church Parade
D. Smurthwaite – Go to sea
J. Radcliffe (OW) – Widdicombe Fair
We finished by singing 'Auld Lang Syne' and 'God Save the King' and then broke up about 1 o'clock all the Old Grantites coming in to the smoke and talk afterwards in the Drawing and Dining Rooms. I think the general opinion seemed to be that it was a very successful Play Supper and that it was a very good selection of songs.
We eventually got to bed about two o'clock, Rigaud's keeping on their supper until 2.30, much too late I should think.