We had a slight tragedy at breakfast today. Frampton had made no toast for Hobson so I called him up and asked him the reason, he said that there was hardly any fire but Hobson pointed to my toast, so I said that he had better toast a bit there and then, which he did accordingly.
Nall came up to me this morning and told me that Maurice & Co of Bedford Street had a large collection of portraits which they were selling cheap and asked if I would go up and look at them so Low and myself went and spent a happy time putting aside any Old Westminsters we came across with beautiful unconcern for money as we were looking at them for the Library.
From there we went up–Fields and watched the match for a bit but we both got rather board with it so I am sorry to say came down and talked to Barrington-Ward in College. We had a great argument as to the extent of the Refectory and adjourned to discuss it on the spot. Green the Carpenter joined us and gave me a rather interesting relic of the Isle of Thorney, in the shape of a boars tusk which he picked out of the sand about 9 feet down when they were laying the foundations of the Carpenter's Shop.
A 5 o'clock Barrington-Ward, Low, Williams, myself, Wade and E. S. Wood went to the Deanery for our first tea and lecture. We went straight into the Dining Room where we had a stand up tea while Rackham regaled us with extracts from 'The Social World' until the Dean came. Then we all sat round the table where pens, ink and paper had been provided. and the Dean read us out a sort of lecture while we took notes. He produced a box of Charters which we all looked at. He was most interesting and I have copied out his notes fairly fully. Afterwards we asked questions of which the substance I have put down elsewhere. We got out by about 6 o'clock so it was not very long.
I have been much excited and interested by the following letter from Mrs Wakefield I received today: –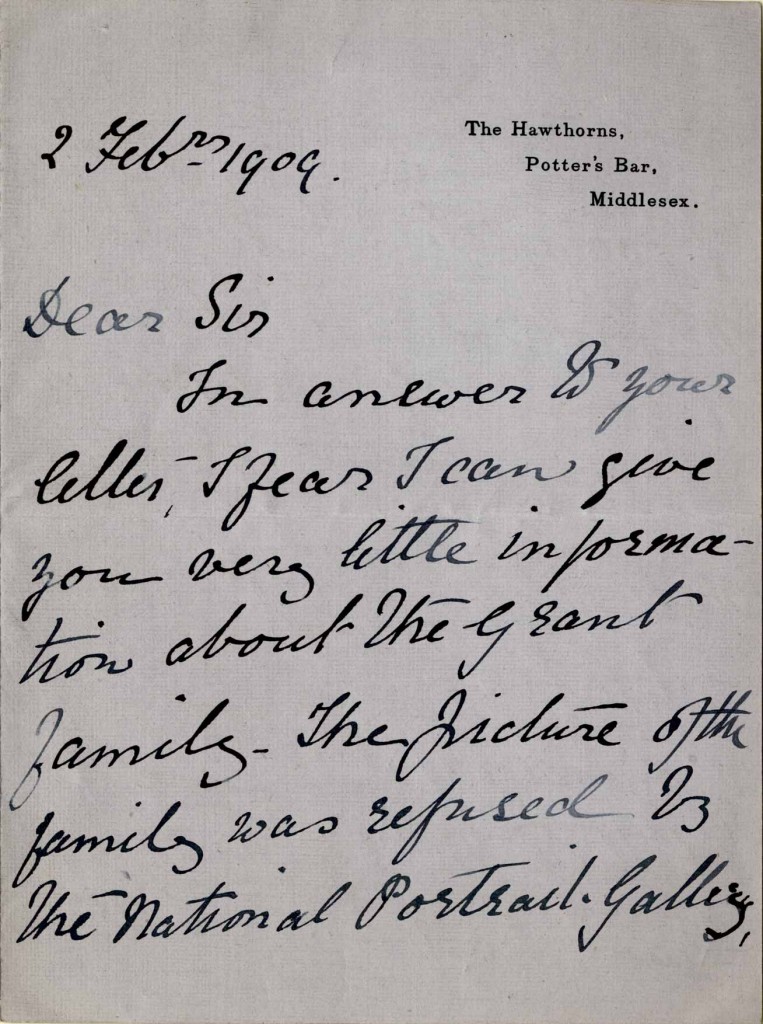 Dear Sir,
In answer to your letter I fear I can give you very little information about the Grant Family. The picture of the Family was refused by the National Portrait Gallery, it was sold by my Mother, Mrs Wedderburn, about 11 years ago at Christys (sic). I will try and find
Yours truly, out the date of the auction I will also ask an Aunt of mine if she remembers whether Mr Richard Grant had any brothers or sisters; I know that Mrs Maria Dixon only had one brother and he died unmarried. I have a very pretty portrait of Mrs Grant also miniatures of her, her husband and son. If you would care to see these my husband and I would be pleased if you would come down here; we would be at home that afternoon of Saturday 13th. In the meantime I will try and collect all the information I can about the Grants.
A E Wakefield.
I am hugely pleased, after 5 years toil, about the portrait and miniatures and I shall of course go down. If only she could unearth entrance books in the meantime!