I am really delighted to say we have won the first cup it was possible for us to win in my year of office. Our Junior Team today defeated College (1-0) and have thus won the Junior Cup. I have never been so pleased about a Junior Match before, not even when I caught the only catch of my life in Cricket Juniors and thus won the match three years ago. I don't know, that was a great moment, my solitary claim to fame, perhaps I was more pleased then. Anyhow I am delighted to be able to add another cup to the House and to have one more (2 at the moment) than Reed had last year. Unfortunately I have been out of school again today with a wretched cold so I couldn't cheer on my house to victory.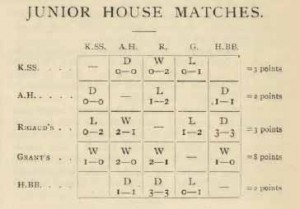 There was one unfortunate incident during Juniors: someone went into the Under Changing Room and emptied the pockets of some of the boys of money. It is horrid when these things happen and how it happened I can't imagine without the thief being seen. I was sitting in the study all the time and Minchin and the Boy were in their pantry. Curiously enough I did look up once or twice when I heard steps wondering who it was who was not up–fields, but the only people I saw were Sargeaunt, Dearmer and Clarke and that an possible suspicion should light on any of these is simply ludicrous! Hobson suggests that perhaps it was the same man who went into College last year during Sports. I gather Hodgson has lost 12/6, Mason and Hobson about 2/6 each, Potter a purse with his Season-ticket and somebody a knife while another knife was thrown into the boot basket. It is very horrid and I wish it could be cleared up but I fear the chances are but small.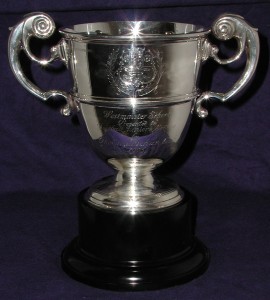 Father had a lengthy talk with Sorley this evening and tried to impress on him the duty of making friends or rather cultivating advances on the part of other people. Cargill told Father in the course of conversation that if you asked Sorley if he would make a 'two' up-fields he answered 'I don't know'! What are you to do if he is incapable of making up his mind. Poor child, I am afraid he is not settling down much yet and I do most devoutly wish Smurthwaite would come back who has been absent all this term, to look after the fagging of the house!! Sorley does his best but he does not, it is hardly to be expected he would, take a pride and joy in the performance of his duties. Sometimes if I come out early from tea I find the fags clearing up Inner and I ask them something about themselves, such as how they are getting on etc. but Sorley is always too paralysed to answer much and leaves Cargill and the Professor to carry on the conversation. I rather like doing this as I get the opportunity of getting them along and showing that I do take interest in them.