. I was sitting in the study quite quietly after Lunch today when there was a knock at the door and Cargill appeared. I told him Father was out and asked if I could be any use. To my utter astonishment he burst out ÔÇ£Sedgwick and I have had a bet; if you bought a thing for 4d and sold it for 6d is the 2d profit on the 4d or the 6d?ÔÇØ I was fairly floored but managed to keep grave and eventually answered that I supposed it was on the 4d. ÔÇ£HurrahÔÇØ says Cargill ÔÇ£I have wonÔÇØ and out he went like an arrow presumably to make the Professor pay up while I simply roared with laughter.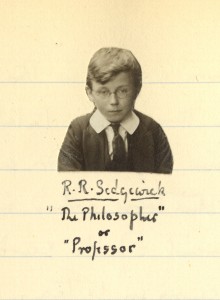 Father told me this morning that Sedgwick had been taught by Dr Rouse and when Father asked him about it he replied it was all right when Dr Rouse took it, but it was a different matter when the Games-Master ÔÇ£who has not a large vocabularyÔÇØ, took them!! Father remarked that he believed Dr Rouse read Virgil aloud to them: ÔÇ£Yes and explains things by Latin words, of course we don't understand but we all say we doÔÇØ!…
I read during Prep an extraordinary account of a typhoon in a book called 'Typhoon and other stories' by J. Conrad.
After there seemed to be much talking and amusement in Outer but I didn't interfere. When I went to bed I found Outer decorated with cardboard placards surrounded with bottles: 'Votes for Women', 'We want our B-e-er. Down with the Pub prohibiting Bill!' Really they are children.