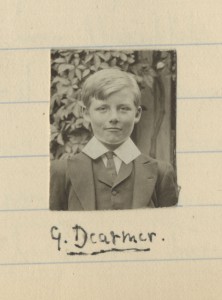 Today we are faced with another problem. 'Dearmer', so his mother writes (though unbeknown to him), 'arrived home feeling very sick and with his trousers slashed rent.' He had, apparently owing to having got up top in his form, been put in the big boot basket and rolled over in it while water was poured on to him! He is a really dreadfully highly-strung person and suffers acutely from anything like this. By a process of elimination the evidence points to Collier and of course backed up by Whitmore as being the culprits. But the problem is how to make sure and also keep Dearmer's name out of it. Of course at present he has no idea that we know anything about. It is rather disgusting to find this species of bullying going on right in our midst, nor am I able to see how they managed to do it presumably from 5 to 5.15 without any of us seeing anything as one or other were going through, or were about, the Under Changing room at this time. At present the problem beats me…
We have had more difficulty with Raynor over the Shakespeare Society, Malden who has not yet got into the College Society asked to join ours and asked Raynor if he any objection and Raynor remarked that he was afraid it was not a 'Collegite Society'. Silly little man! I had to take Henry V tonight in Shak. Soc. Barrington-Ward who was to have taken it being out of school. It is not a play I really care for but the Crispin speech is really magnificent and I much enjoyed reading it. We finished 'The Midsummer Night's Dream' in our House Society tonight. We were all so paralyzed with laughter we had some difficulty in getting on. Pemberton started giggling in the Thisbe speech about 'the cowslip cheeks' and could not go on and we all giggled feebly and matters were not improved by Tomlinson coming out with 'the Lion tongue of night' instead the 'iron tongue'. 'Fee, fee' is a new variation of Fie, Fie, to me but it came out tonight.
We had a tragedy tonight. I went round dormitories at 9.25 tonight (you go up when you can on Lit. Soc. nights) and when I reached the Upper landing Shore was standing on the inside of the door of the 6-bedder dormitory and Radford clothes only in his lower portions with pyjamas was standing behind. It was a fair 'kop', because both sleep upstairs, again, both were out of the dormitories after 9.15 and one was inside another dormitory to his own, all tannable offences. I stood almost half a minute until Shore turned and saw and bolted upstairs like a frightened rabbit even then Radford didn't see until I touched him and asked him what he was doing. I am afraid it means an execution either way. I couldn't catch whom I wanted to catch, it is one of the exasperating things about Whitmore – he is always just not doing the thing; before I got to the door I heard Hodgson saying 'Shut up' all unknowing I was there so when I opened the door though scared they were outwardly doing nothing. Incidentally Whitmore nearly floored me in Prep by asking me suddenly what denominational (I can't spell it) teaching was, I gasped out the right answer but it was somewhat of a guess.
Today we started Fives.