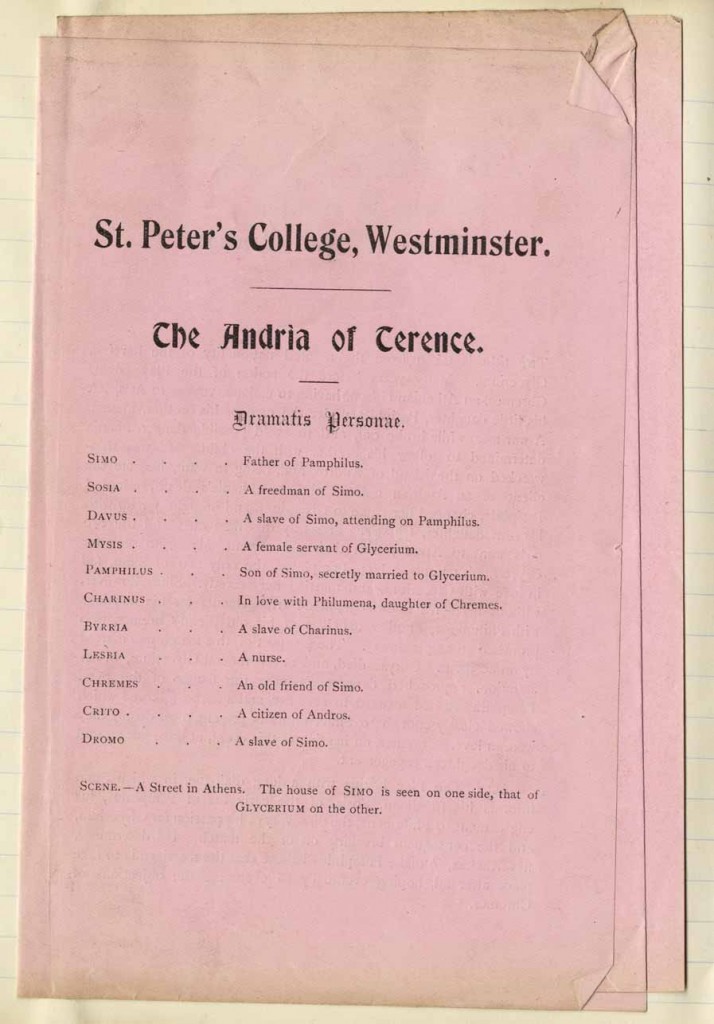 1st Play Night
I went out about 7 o'clock and Boult, Chapman, Low and myself sat together in the Gods where there was a fine squash every inch of room being filled and I had to take a child on to half my chair most of the evening. Soon after 7.30 the Princess Henry of Battenburg arrived preceded by the Captain and led in by the Headmaster and was received with the National Anthem and mush clapping everybody standing up. a semi-circle of large armchairs had been placed for the Royal Party which consisted of about 12 people. It is said on good authority that as they went up the steps Gow remarked to the Princess 'We are both falling over out petticoats aren't we!!' The Princess was much amused.
The Princess herself, so Barrington-Ward tells me, was really interested (though she didn't appear to be) and followed the Play throughout from her Acting Edition — Gow says she understood it without the crib.
When the Princess was seated Barrington-Ward appeared through the curtain and handed his brother a bouquet of pink roses and a bound copy of the Acting Edition of the Play which the small brother presented to the Princess. She handed the bouquet to Gow who held it throughout the performance much to his inconvenience. I presume he didn't like to put it down.
Now as to the Play. Poor Barrington-Ward obviously somewhat nervous got through the Prologue practically without prompting. It must have been a fearful ordeal.
The Play itself is long and rather dull, but it seemed to me it was uncommonly well acted throughout and by the gestures (particularly Barrington-Ward) and my small stock of Latin I followed fairly well.
The Epilogue was poor and far too abstruse but on the whole went well and the points were fairly well taken up. Troutbeck as Keir Hardie was quite well got up.
I saw various people afterwards including Adrian and Hodder-Williams. I felt rather inclined to steal one of the torches as we came out as a memento but resisted the temptation.