Barrington Ward got Gow to give the Bug. Soc. Committee 3rd hr off but neither he, Low or myself availed ourselves of it, I couldn't very well cut Burrell but I did not go into prayers (mark the subtle distinction) and went up and helped Clark rig up some electric lights for the bird-cases, and was a little late for Hall in consequence. Afterwards the Society having met in the Old Library and proceeded to the Lecture Room, Barrington-Ward declared the exhibition to be open.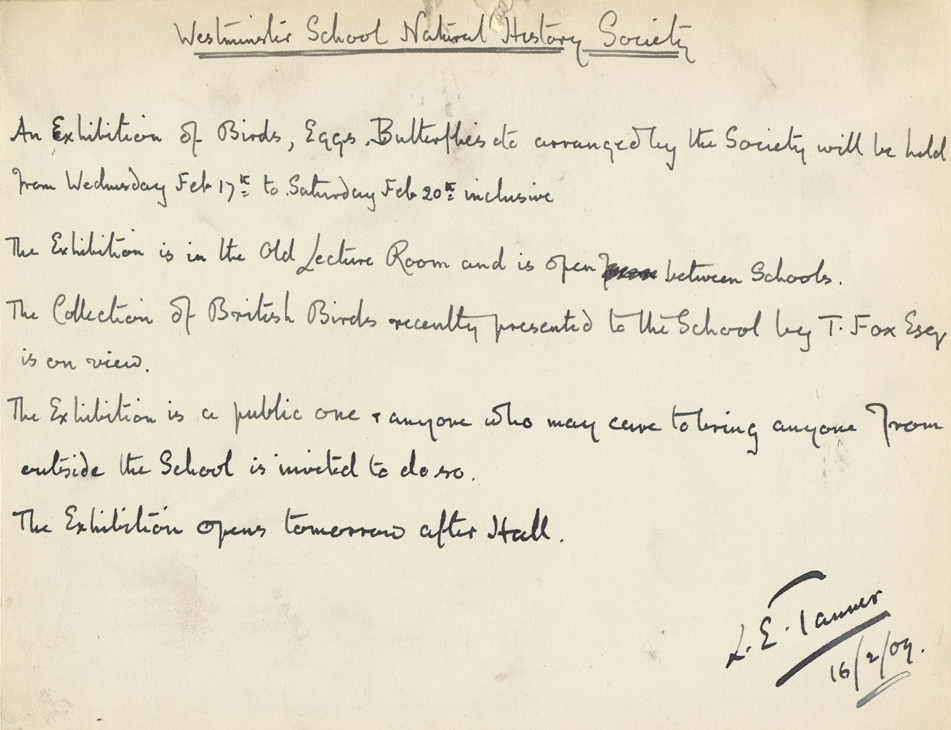 Four mortal hours all but a quarter did I stay in that room this afternoon. It seemed better that someone should be there and H. Wood and myself spent most of the time re-arranging the birds and showing them to better advantage. Really I think it is an excellent little exhibition and even Gow was quite pleased with it. H. N. Wood had really take a great deal of trouble over it and Barrington-Ward paid him a well-deserved compliment in the course of declaring the exhibition open. I am very pleased that we should leave such a substantial record of our year of office and I think that future generations should be grateful to us. I learnt quite a lot of Natural History in the course of the afternoon.
'Flu is raging in the School. Hodgson, Smurthwaite, Mrs Thresher and possibly Gilmour have succumbed.